Nihon Itomic
Welcome to the website of Nihon Itomic Co., Ltd.,
a pioneer maker in Japan for commercial electric water heaters.
For over a half century, we've been a leading manufacturer of electric water heaters for commercial use, covering from R&D, production, sales, to customer care.
Nihon Itomic is one of the oldest in the industry, and has been renowned for its faithfulness to our clients since the foundation in 1948.
We keep answering to the calls of industrial need for hot water with the state-of-the-art technology and energy-efficient solutions, on top of the reliable after service.
Philosophy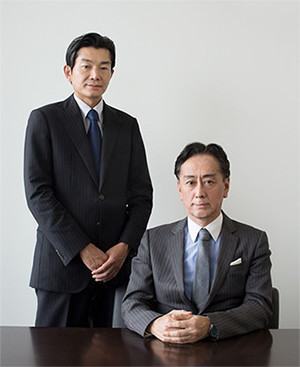 "Knowing people" "Knowing things" "Knowing time"
Our philosophy starts with "Knowing"
These philosophical back bones are foremost important to our everyday business execution, which in turn, we believe, contributes to the society with innovative hot water solutions.
To make it visible, not only have we obtained ISO9001 from the early stage on, but also kept "offering people the environment with safe and comfortable hot water corresponding to the individual needs. (Company motto) "
We will step up efforts for further satisfaction of our customers.
ChairmanHirotaka Ito
PresidentHirofumi Moriya
About
Company name
Nihon Itomic Co., Ltd.
Business
Plan, design, develop, manufacture, sell, and maintain commercial-use
water heaters, boilers, instantaneous water heaters, hot water storage tank, sink unit with electric water heater, CO2 Heat Pump Water Heater, supply hot water units, faucets and fittings.
Headquarters
Tokyo Skytree Tower 24F, 1-1-2, Oshiage, Sumida-ku, Tokyo131-0045
TEL:81-3-3621-2121 FAX:81-3-3621-2131
View map
Established
1948
Chairman
Hirotaka Ito
President
Hirofumi Moriya
Factories
Several domestic locations
Registrations
and
certifications
Officially approved by the Ministry of Economy, Trade and Industry, Japan as a manufacturer of electrical appliances; Certified by local waterworks bureau and Japan Water Works Association; Approved building contractor for plumbing work.
Membership
The Japan Electrical Manufacturers' Association; Japan Boiler Association; Japan Federation of Mechanical&Electrical Consulting Firms Association
Capital
100 million yen
Employees
240 (total as a group)
Product
CO2 Heat Pump Water Heater (Eco-Cute)
Y-Frame

A reputable large size CO2 Heat Pump Water Heater with drastic downsizing and high performance with its characteristic design of Y-shape, realizing the high efficiency and durability to meet the demand of heavy hot water load. Y-shape configuration enables the installation in the limited availability of space and structural tolerance. The model has been overwhelmingly popular ever since the start of its sales, back in 2011.
Heating ability: 65kW

Medium size

A long-selling standard type CO2 Heat Pump Water Heater which meets various requirements from small-scale facilities to larger ones. Circulation heating specification, self-learning function, multiple-unit control, and hybrid system with existing boiler, are just some examples of its features which customers value. Heating ability:26kW(50Hz),30kW(60Hz)
Heating ability: 65kW

Small size 10kW/15kW

Compact size CO2 Heat Pump Water Heater which are suitable for small-scale facilities and shops. A 15kW model enables the flexible system constructing corresponding to various types of tanks; whereas a 10kW realizes simultaneous hot water outputs to lower and higher floors, and also to the two outlets with different temperatures with its high pressure specification.
Heating ability:10kW/15kW
※The sales of 10kW CO2 Heat Pump Water Heater will be discontinued as of the end of March, 2018.
Small-size electric water heater

Thanks to the variety of product ranges in applications, hot water volumes, temperature settings, and more useful features, millions of the product line have been installed across the country since the foundation of the company. One never fails to find the right product, whether it is for drinking coffee, dish washing, or hand washing.

Instantaneous electric water heater

Different from a storage type water heater, this tankless water heater heats water directly on demand with a large-capacity heater. It delivers a steady stream of heated water whenever a tap is tuned on. Suitable for facilities consuming a high volume of hot water, and also for the sites where hot water consumption is not consistent. The heating capacity is available from 5kW to 40kW, from hand washing to shower usage.

Large-size electric water heater

This series covers from an application suitable for small volume, such as for a household in a multiple dwelling house, to a larger installation like the central hot water supply for the entire building floors. Among the wide product range with the tank choice from 150L to 20,000L+ and the advanced heating functions, to name a few, one sure will find the most suitable product in this series.
Portfolio
Government /Public facilities

The Supreme Court
Japan Mint of Ministry of Finance
Narita International Airport
Bank of Japan
Kansai International Airport
Post Offices
State Guest House in Akasaka, Tokyo
Highway Parking Areas/Service Areas
Tokyo Fire Department
Water and sewage plants
Tokyo Metropolitan Police Department
Japan Railway stations
Tokyo Metropolitan Subway stations

Embassies

French Embassy
Embassy of Italy
British Embassy
Embassy of Basil
China Embassy
Australian Embassy
American Embassy
Embassy of Mexico
Korean Embassy
German Embassy
Canadian Embassy
Embassy of United Arab Emirates

Hotels

Hilton Hotel
ANA Hotel
Sheraton Hotel
Nikko Hotels
Disney Ambassador Hotel
Hotel JAL City
Imperial Hotel
Tokyu Hotels
Century Hyatt Hotel
Price Hotels
Hotel Okura

Office Buildings

Nippon Life Insurance Company
Osaka World Trade Center Building
Sonny Head Office Building
Yokohama Landmark Tower
Bridgestone Head Office Building
Nomura Securities Co., Ltd
Nippon IBM Head Office Building
Mitsui Sumitomo Bank
BMW Japan Building
Dentsu Inc. Head Office Building
Kajima Corporation
Mitsubishi Corporation Building
Shimizu Corporation
Toshiba Corp. Head Office Building
Prudential Tower
Matsushita Electric Works Ltd.
Bank of Japan Branches
Yomiuri Shinbun Newspaper

Overseas

Hotel Nikko Guam
Saipan Daiichi Hotel
Swiss Union Bank
University of Kenya
Egypt National Education & Culture Center
Ethiopia National Hospital
Shanghai Mori Building
Japanese Embassy of Saudi Arabia
Canon Dalian Factory
Philippine Airport

Factories/Power Facilities

Sony Factory
Honda Factory
Toyota Factory
Canon Factory
Tokyo Electric Power Company
NEC Factory
Nippon IBM Factory
Suntory Beer Factory
Fujitsu Factory
Victor Factory

Retail Stores/Restaurants

Seven Eleven
McDonald
Hermes
Denny's
Lancel
Kentucky Fried Chicken
Starbucks Coffee
Hard Rock Cafe
Baskin Robbins
Ito Yokado
Tully's Coffee
Aeon Shopping Centers

Theme Parks/Sports facilities

Tokyo Disney Land
Tokyo DOME
Tokyo Disney Sea
Osaka DOME
Universal Studio Japan
Konami Sports Clubs
Tokyo Stadium
Ocean Spa Resort in Chiba
Kyoto Horse Racetrack
Oedo (Tokyo) Hot Spring

Cultural Facilities

Tokyo Metropolitan Museum
Suntory Hall
Kabukiza Theater
Tokyo Big Site Exhibition Halls
Tokyo Opera City Hall

Hospitals/Welfare Institution

National Center of Cancer
Japan Red Cross Hospital
Kyoto University Hospital
Nursery homes
Keio University Hospital
Day care centers
Matsushita Memorial Hospital
Welfare centers

Other facilities

Tanegashima Rocket Launch Site
St. Clara Church
Tsukuba Space Center
Tsukiji Honganji Temple
Showa South Pole Station
Weather Rocket Observatory Site
Tokyo International Forum
Yokosuka US Military Base